UM3K Flow Switch Supplier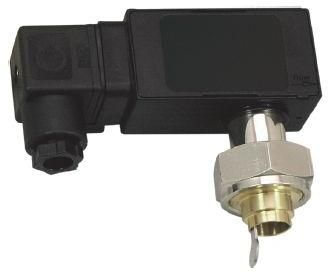 Business Type
Exporter, Supplier
Switch
Micro switch
Nominal width
DN 15..80
Process connection
Soldered/welded nozzle (further process connections available on request)
Click to view more
Technical data
Tolerance
±15 % of full scale value
Medium temperature
-20..+110°C
Ambient temperature
-20..+70°C
Media
Water (oils, gases and aggressive media available on request)
Switching voltage
Max. 250 V AC (gold contact max. 125 V AC / 30 V DC)
Switching current
Max. 5 A (round plug connector max. 4A) (gold contact max. 100 mA)
Protection class
2 - safety insulation
Electrical connection
Plug DIN 43650-A / ISO 4400, optionally for round plug connector M12x1, 4-pole
Non-mediumcontact materials
ABS, PA, NBR
Download

View
Details :
Soldered/welded connection
Micro switch
Low pressure loss
Compact design
Threaded connection
Plug DIN 43650-A / ISO 4400

Characteristics : The devices function via the principle of a spring-supported paddle, and the magnetic triggering of a micro switch.

Handling and operation :
Include straight calming section of 5 x DN in inlet and outlet
When tightening the union nut, the connection piece must be countered using an open-ended spanner (SW 19).
If the media are dirty, install a filter (use magnetic filter for ferritic components).
It must be ensured that the values given for voltage, current, and power are not exceeded.
When switched on, a load must be connected in series.
The electrical details apply to ohmic loads. Capacitive and inductive loads must be operated using a protective circuit.

Options :
Connection for round plug-in connector
Signal lamp red or red/green in the plug DIN 43650-A
Gold contact 125 V AC / 30 V DC, 100 mA
Protective bellows
Switching ranges for oil or gas
Special values
Adhesive PVC fitting

Ordering information :
Specify direction of flow, medium, and switching range.
For oils, state viscosity, temperature and designation (e.g. ISO VG 68) (enquire about range).
For gases, state pressure (relative or absolute), temperature and medium (e.g. air) (enquire about range).
Looking for "
UM3K Flow Switch

" ?
Piece