RT-AK Flow Transmitter Supplier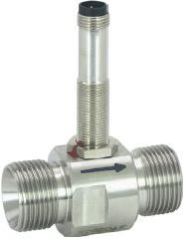 Business Type
Exporter, Supplier
Sensor
biased Hall sensor
Nominal width
DN 15..50
Process connection
male thread G 1/2 A...G 2 A
Click to view more
Technical data
Metering ranges
1.8..1133 l/min
Measurement accuracy
±1 % of full scale value in the specified metering range, including linearity and repeatability
Medium temperature
-20..+85 °C optionally -20..+150 °C (for 8 bar min.)
Ambient temperature
-20..+70 °C
Storage temperature
-20..+80 °C
Material electronics housing
CW614N nickelled
Max. particle size
0.5 mm
Pressure loss
0.3 bar at Qmax.
Pressure resistance
PN 250 bar
Supply voltage
10..30 V DC
Current consumption
20 mA without load
Electrical connection
for round plug connector M12x1, 4-pole
Download

View
Details :
High precision
No magnetic components in the flow space
High pressure resistance

Characteristics :
A turbine acts as the primary sensor; its rotational speed is proportional to the flow rate.
The rotational speed is detected by means of a biased Hall sensors, i.e. there are no magnets in the flow space.

Handling and Operation :
Installation : As with all flow meters, if possible the turbine should be installed ahead of a valve (on the pressure side). Good degassing should be ensured. 10 x D calming sections are recommended before and after the turbine in order to maintain the specified accuracies. The turbine should be filled with fluid at all times. The electronics housing does not project into the flow space.

Options :
Flanged model,
max. temperature 150oC
DN 80-300 PN 16
model for air / gas
range from 0.05 m³/h

Accessories :
Cable/round plug connector (KB...)
see additional information "Accessories"
OMNI-TA
Looking for "
RT-AK Flow Transmitter

" ?
Piece