RRH Flow Transmitter Supplier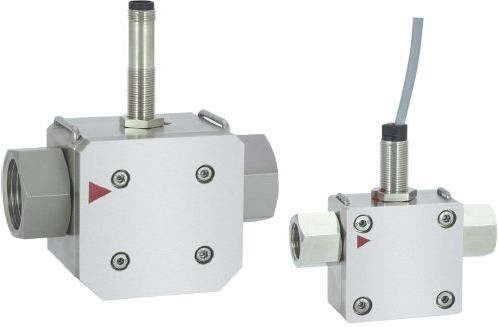 Business Type
Exporter, Supplier
Sensor
hall element
Nominal width
DN 10 (RRH-010) , DN 25 (RRH-025)
Pressure resistance
PN 100 bar
Click to view more
Technical data
Medium temperature
0..100 °C
Current consumption
30 mA
Output current
max. 100 mA
Electrical connection
cable 2 m or for Round plug connector M12x1, 4-pole
Resistant to short circuits
yes
Reversal polarity protected
yes
Download

View
Flow Transmitter RRH :
Uncomplicated measurement of flow rates
Metal housing with Hall sensor
Working pressure up to 100 bar
Long working life thanks to high quality ceramic axis and special plastic bearing
Run-in and run-out sections are not necessary.
Modular construction with various connection systems
Plug-in and rotatable connections
Output signal PNP or NPN
Intrinsically safe behaviour
Optionally, non-return valve, filter, constant flow rate device in the connections.

Characteristics : The flow meter consists of a spinner which is rotated by the flowing medium. The rotor's rotational speed is proportional to the flow volume per unit time. The rotor is fitted with magnets. A Hall sensor records the rotational speed, which is proportional to the flow rate.

Wiring : Air bubbles affect the measurement results. For filling processes, the valve should be installed behind the sensor. A running up time of approx. 0.5 seconds and a running down time of approx. 3 seconds should be noted.

Handling and operation :
Installation
The Rototron device is installed in the pipework with the aid of the rotatable adapter pieces. If necessary, the adapters can be removed from the body of the housing after the stainless steel clips have been removed from the housing. Before reinstalling, it should be ensured that both the adapter with the O-ring and the sealing surface in the body are clean and undamaged. The adapters should be fitted carefully in the housing (it is best to turn them), so that the O-ring is not damaged. With this flow sensor, there is no need for run-in and run-out sections. However, it should be ensured that the flow sensor is at all times filled with medium. Any preferred installation position is possible, but the best possible venting position should be chosen (rotor axis horizontal, flow horizontal or from bottom to top).

Options :
Transparent cover DN 10
Air or gas model

Accessories :
Cable/round plug connector (KB...) see additional information "Accessories"
Evaluation electronics OMNI-TA
Mechanical connection pieces with non-return valve, filter, constant flow device or customer-specific requirements available on request
Looking for "
RRH Flow Transmitter

" ?
Piece